Meet Dr Bronwyne Saxey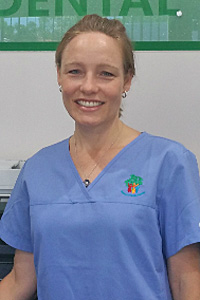 Focus on Preventive Dentistry
Dr Bronwyne Saxey enjoys working with a wide range of individuals from a diverse background, including young children visiting the dentist for the first time. She also has a special interest in periodontics, and maintaining healthy gums..
Ethically, I feel strongly that you do only the treatment that's required with a big focus on prevention of dental disease so you are setting people up for long-term dental health.
Deep Roots in the Local Community
Before becoming a dentist, Bronwyne worked as a registered nurse in Perth for several years. She worked in rehabilitation and surgical wards before working for a local oral and maxillofacial surgeon, which piqued her interest in Dentistry.
Bronwyne is a registered general dentist in Australia, and earned her Bachelor of Dental Science in 2003 at the University of Western Australia. She first worked in Sydney at The Westmead Centre for Oral Health after graduation, and after some time spent in the UK, has been working in private practice in Perth for the last 7 years. She regularly takes courses to stay up-to-date on the latest developments within the profession.
Dr Bronwyne Saxey is a member of The Australian Dental Association.
Outside of the Practice
Away from her work, Bronwyne and her family enjoy cycling and hiking. She also regularly volunteers in a soup kitchen which serves the homeless and people in need.
"I welcome the opportunity to care for your family's dental needs. Contact us today to make a convenient appointment!"

Palmyra Family Dental | (08) 9330 3030