Palmyra Family Dental Cares for Families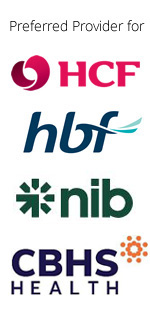 Get a Brighter Smile at Palmyra Family Dental
We're ready to warmly welcome your entire family to Palmyra Family Dental! In our modern, bright environment, one of our friendly dentists will start with a thorough examination to understand your oral health. Together, we'll make a plan to help you improve it, personalising your dental care to exactly what you want.
If your treatment requires a specialist, we'll guide you through the process of finding the right person to help you. Our entire team will make sure you're well looked after!
Relax While We Take Care of You
You can feel at ease knowing that we'll go over all your possible treatment options with
you before starting. If you feel nervous during your visits, we have Penthrox®
available that will help with anxiety. An anaesthetist is also available so that we
can do your treatment under sedation. The services you'll find at our practice include:
Children's dentistry
Cosmetic dentistry
General dentistry
Cutting-edge Technology
Our patients receive the benefit of the latest equipment and procedures in dentistry.
Palmyra Family Dental's state-of-the-art dental care includes digital x-rays. Our
sterilisation system adheres to all the current procedures necessary to ensure the
safety of your family. Plenty of parking makes your visits convenient, and
appointments are available immediately. We also offer Saturday appointments
between 9 a.m and 2 p.m.
Palmyra Family Dental uses Clean Energy
Solar panels installed on our roof generate renewable electricity, most of which is
used in the clinic during operating hours, reducing our carbon foot print.
Your family deserves to have the highest standard of dental care. Contact our practice
today on (08) 9330 3030 to get started!
Palmyra Family Dental welcomes families from Palmyra, Melville,
East Fremantle, Fremantle, Bicton, Kardinya, Willagee,
and the Inner South West communities